As in other industries, cloud-based computing is becoming more commonplace in the oil and gas sector. It largely renders factors such as type of computer hardware and geographic location irrelevant.
Because cloud-based computing facilitates the collection, processing and dissemination of more robust data, one might presume that it offers the ideal platform for U.S. oil and gas producers who are "doing more with less." As Rigzone recently reported, Texas producers – who are on track to break oil production records with fewer rigs and workers – are at the vanguard of this trend. Making such an assumption about cloud-based computing in this case would be misguided, however, according to John Fryer, senior director for industry solutions with Stratus Technologies.
Fryer recently told Rigzone that something called "edge computing" offers a better option for maintaining high production amid infrastructure constraints and a decrease in workforce. Keep reading to learn why.
Rigzone: In layman's terms, what is edge computing and how does it work?
Fryer: Edge computing is the idea of placing computing resources at the network's edge – at or near where production processes are occurring. As opposed to the cloud, which is actually a massive data center that is located far away from the network. Without a lag time of traveling to and from the cloud, the benefits of edge computing have become hard to ignore – helping oil and gas companies increase efficiency, optimized productivity and improve quality.
The real-time, continuous monitoring and analytics capabilities of edge computing give oil and gas companies the ability to identify and respond to dangerous issues proactively, improving operations and avoiding potentially catastrophic issues before they occur. With the edge, the possibilities for optimizing operations are endless.
Rigzone: What technology is edge computing meant to replace, and how does it differ from the more conventional approach?
Fryer: Edge technology is not so much meant to replace anything, rather it provides the opportunity to augment existing systems in a cost-effective manner. In some circumstances, this can include replacing existing, often aging systems. Automation systems are extensively used in the oil and gas industry, but they traditionally, quite naturally, focused on the operation of the specific systems they are controlling. Often there may be multiple automation systems operating independently on a rig.
Additionally, modern control systems often collect data that is not used, simply because it is not required for the control process. Edge computing can be effective in multiple areas, many of which involve using this additional data and performing real-time analytics. Examples could include using sensor data to detect imminent failure in pumps or valves, providing real-time feedback on production flows or providing early warning of potential blow-outs. This type of analysis and feedback could not be performed using cloud-based technology due to the round-trip delays, and existing systems simply aren't built to support this type of capability. However, edge compute systems can act as a store of multiple sources of data and filter or process this data, which can be used for additional analytics and operational support – some of which may be in the cloud.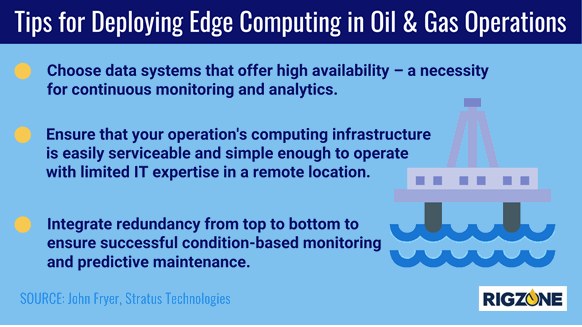 Rigzone: What impact can edge computing make on oil and gas operations?
Fryer: Without the right management, all oil and gas operators can face challenges like lower production rates, production halts and regulatory penalties – which can lead to a loss in revenue. Edge technologies give oil and gas operators the computing power to perform sophisticated monitoring and analysis of rigs and pipeline systems that need to run uninterrupted in remote and unstaffed locations.
As the oil and gas industry moves to operate in increasingly remote geographical locations, these capabilities have become even more important. The edge is a critical tool that allows oil and gas operators to gather and analyze data from sensors monitoring critical pipeline components in real time. In the event of a problem, edge technologies can identify the cause immediately – in some cases before they even happen – and can take action to mitigate the damage, eliminating the need to send a technician to the remote site to investigate the problem. This capability dramatically reduces downtime and improves operational efficiencies, which are two key factors to properly managing and maintaining pipelines.
The capabilities brought about by edge mentioned above are also useful in a drilling rig environment. These are also in remote locations and can be dotted across regions that can be hundreds of miles away from the company's data center. For example, at the edge sensors on the oil rigs can provide continuous monitoring and analysis of key parameters with the capabilities to identify when critical thresholds are at risk in real-time. Without edge technology, the lag time waiting for data to travel back to the data center, undergo analysis and direct actions back to the rig could cause even more issues.