The oil and gas industry is vast, with revenues of $3 trillion expected worldwide this year, according to IBISWorld, a business information and market research firm. And while the sector supports millions of jobs, those opportunities aren't being shared equally.
Women represent just 22% of employees in the industry worldwide, according to a 2017 report by the World Petroleum Council and The Boston Consulting Group — a significantly smaller share than found in almost any other sector.Ogutu Okudo of Kenya is on a mission to change that.
To help bridge gender gaps in the energy sector, Okudo founded Women in Energy & Extractives (WEX Africa) in 2011. The nonprofit operates in eight African countries and has grown to more than 4,000 members.
The group works to reach girls at an early age and encourage them to study science and technology. "We make sure we go to high schools all around Kenya and all around Africa," says Okudo, who has worked as a consultant for oil companies including Nigeria's SpringRock Energy.
"I talk to girls about STEM subjects because I know how unattractive [those subjects] are deemed," says Okudo. "If we want to have a sustainable approach and we want more women into these industries, we have to look at it from the short term, midterm and long term."
To address shorter-term goals, WEX Africa visits smaller communities to tell women about opportunities within the industry that don't require years of training. Okudo says WEX Africa organizes conferences for professional women to network, and it plans to release a report in 2020 detailing the number of women working in the oil and gas industry in Africa, and describing their experiences.
The group also helps women get access to personal finance by setting up groups where women contribute money every month and can apply for funds from the pool. She says that some women have used the funds to set up cleaning and catering services for oil companies.
"Women need to be empowered economically," says Okudo, who in addition to running WEX Africa is now SpringRock's country manager for Kenya, leading new projects and working with the Ministry of Petroleum. "One of the biggest issues we have is access to markets, technology and finance."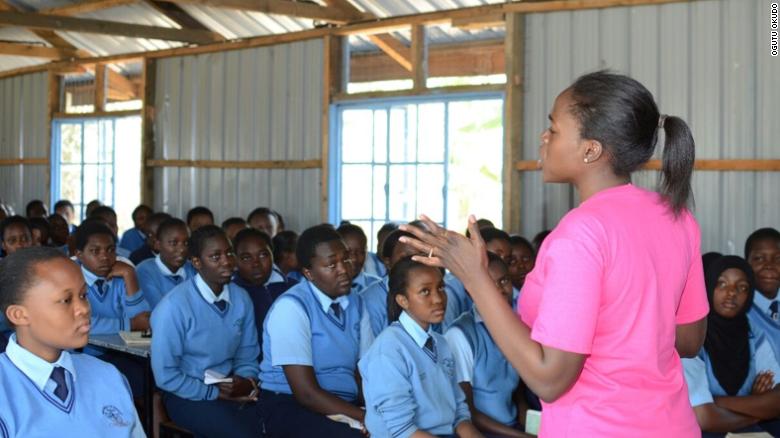 WEX Africa visits schools and talks to girls about science and technology.
By encouraging more women to enter the male-dominated field, Okudo hopes to open up opportunities for them in a rapidly growing industry. Africa's oil and gas production is forecast to increase by 74%, by 2050, according to PricewaterhouseCoopers.
Okudo says she wants to see more women in the industry go beyond working in catering and cleaning jobs, and take up positions in technical roles.
"The development trajectory for Africa for the next 50 years being very infrastructure and fintech focused, we must ensure girls are not left behind," says Okudo.
The goal is to empower the whole of Africa.
"When you observe women and their patterns, the money they get will 100% go back to their families and this changes the economic outlook of the community," Okudo explains. "We want women at the forefront. That's the real African dream."
"I want women to disrupt. I want to see more women in these sector," Okudo says. "I want to see more women in positions of power and influence."